120mm Tank Ammunition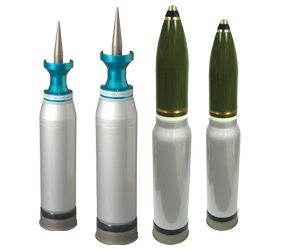 General Dynamics Ordnance and Tactical Systems – Canada (GD-OTS – Canada) is one of the world's leading suppliers of large-calibre tank ammunition. The company's globally acclaimed 120mm tank ammunition combines tremendous firepower with technological advancements to provide unsurpassed combat effectiveness.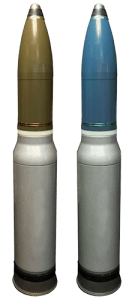 High Explosive IM HE-T & Trainer IM HE-TP
(Under Nammo license for Canada)
The IM HE-T round provides Leopard 2 tank crew with an enhanced capability against infantry. Its HE payload is over twice that of in-service HEAT round and moreover, its IM properties provide the crew better protection against most current threats. A two-mode hand-settable fuze allows functioning in impact or delay for maximum fragmentation/blast.
The IM-HE T also has a trainer ballistically matched to the tactical round.
Trainer M865
(Under License from GD-OTS for Canada)
The M865 allows for a realistic training of tank crew through its form and fit match to the Kinetic Energy round currently in-service with the Canadian Army. The M865 uses a cone stabilizer to limit its range safety template to less than 8 km while providing similar accuracy and time-of-flight of the tactical round.